Recent Posts
1
« Last post by Farajo001 on May 04, 2021, 07:29:48 PM »
The Return of the King
2
UPDATED TO 3.0
I did not intend to update this as this was really to just pass time while waiting for the devs to release content, but due to recent events, it is now updated.
We don't support frlmarket here, he is a racist, homophobic turd, and will never be welcome here. Instead use this map, it is not a replica of his or exact so if your friend use his map you wont be able to drive together.
All in all, have fun everyone!
3
« Last post by Farajo001 on May 02, 2021, 07:04:35 PM »
You don't have to anymore, the latest update includes the car
4
« Last post by Kloudz222 on May 02, 2021, 06:03:26 PM »
How do I get this?
5
« Last post by JDMMaster26 on April 13, 2021, 01:16:06 AM »
We'd need a 0.2.9 version of this mod because I and probably more people have got their saves on 0.2.9
6
After lots of testing it's finally done!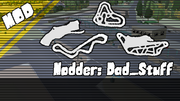 I present my version of meihan's full complex. This includes the original C course, AB course (the kart course), D course (skid pad below C course), the dirtbike track up north, and of course the infamous E course. I did my best to fill this out to be a full map with all sorts of embellishment so you can get a full experience from driving. My friends and I ran this through extensive testing to check lag or studder in multiplayer and we had no frame or ping change compared to a vanilla map. The road, dirt, and grass work where as the rest of the added stuff are clipless.
This is going to be available for both ios and android. If there are any bugs, though I don't believe there will be, feel free to report them here and I will try to update the map. Of course give me a shout out and tag the devs, let get more mods in the game vanillla!
Android Files:
-Ready to play APK-

link if download isn't working:
https://mega.nz/file/iqxmQBaD#ST-L2ZaryErgDwzyMCjtd92LNHITHL2QoOyBHN1o_iA
-Manual Install Files-
Map:

link if download isn't working:
https://mega.nz/file/uuxmWbLJ#B5npzMoUSpSdljds9bC-88tXeqQrQuG1iDaRDDYAD2s
------------------------------------------------------------------------------------------------------------------------------------
IOS Files (jailbreak only):
Map:

link if download isn't working:
https://mega.nz/file/y342BRAY#MTbSfagDMHjoUHPnVjFiFsgijajxV8z-EExDsdN6374
7
« Last post by Caveboii on January 29, 2021, 06:22:26 PM »
How do I download and install this?
8
« Last post by Mrjallday95 on January 26, 2021, 12:41:01 PM »
Can we get a updated v2.9
I
9
« Last post by KWT on January 11, 2021, 03:57:41 PM »
10
« Last post by KWT on January 09, 2021, 06:39:39 PM »


(Use a different Service to Host Codes? Be sure to get the best of them)