1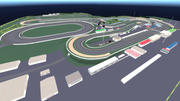 Full Tsukuba complex release. Main 2000 course, 1000 short course, and the circle track.
Some things are clipless on the track.
Things I'm aware of but not going to fix:
There is a building soon as you enter the complex thats floating. I don't care, its just aesthetic for while you're on the track.
There is a speed limit in the entry tunnel to the main course. Please don't fly in here. If you hit the wall you will 9/10 fall through the map.
___________________
___________________
___________________
_________________
Android APK:

link if download isn't working:
https://mega.nz/file/GyJzzA4D#bKO83biiNaXmWOiUr7N4whJkTuESp0POP0GabKE4oNM
___________________
___________________
___________________
______________
iOS (jailbroken devices only):

link if download isn't working:
https://mega.nz/file/XvhgyRSQ#l8rGAYGYSxn7CDFshGqdfiUPtqhyRRlzaOHmxh-hz2U